I had fun playing with the Amiga 500, eventually got it up to 4MB of RAM, 750MB of hard disk, upgraded the Kickstart ROMs to 3.1, and put a ton of WHDLoad games on the hard drive by way of RS232 and ZModem (I kid you not). Eventually I got kind of stuck with its slow speed, lack of affordable upgrade path, and worst of all, no ethernet to speak of (yes I'm aware of the rare sidecars or the possibility of adding a Zorro card, good luck with that).
So it's in a closet now. In its place is a brand spankin new Escom Amiga 1200. I got a PCMCIA ethernet card, a 40GB (!) internal 2.5" HDD, 8MB of clockport RAM from Germany, and a brand new Indivision AGA internal scan doubler from their most recent run. The Amiga and Apple IIGS now each get their own displays thus: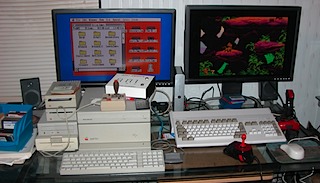 Hey, what's that thing sitting on top of the Apple IIGS? The postman also brought me an AE Audio Animator for the Apple IIGS. I always liked the stupid mixer box, but I haven't tried the MIDI yet. In that shot, the Amiga is running Lion King AGA. Let's have a shot of System 6.0.1 and AmigaOS 3.9 side by side: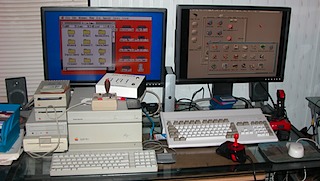 You can barely see it, but there it is, in 640x480 mode, with colorful icons and the enormous red mouse pointer. I should add that with the Indivision AGA, the Amiga 1200 can push 1024x768. Unfortunately the un-upgraded 14MHz 020 is rather pokey and it runs you out of graphics RAM. Someday I'll spring for what ebay.de (the Amiga supermarket!) calls a "turbokarte", but for now I'm satisfied with the Amiga collection.
Lately I'm getting back to my IIGS video game development (what can I say, goodness takes time), using the IIGS partitions off the CF card, dumped into KEGS-OSX. I'd really like to release something, but I want it to be good. Someday.
-Chris